Mixed media/Textile artist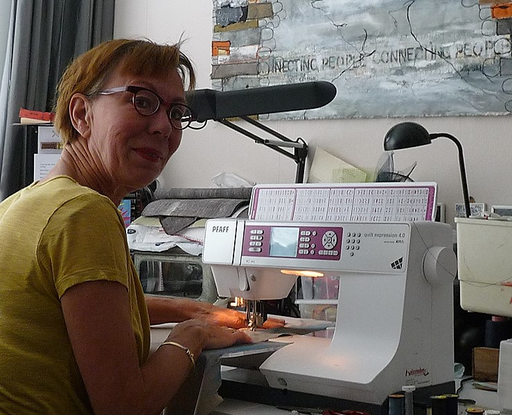 Willy is a mixed media/textile artist.
I let my hands do the thinking and give the materials all the space they need.
My work begins with sketches created by images or memories of things which I am moved by.
Sometimes it is a word that inspires me. Or an idea comes from the material.
A sudden clear idea can come from a nice dust rag, splendid yarn or a beautiful piece of antique lace.
My intuitive working process usually leads to a satisfactory fine end.
Seams do not exist in my vocabulary. This way I give the material space to be true to itself.
I do not think consciously, my hands lead a life of their own. They know what threads are needed, catch the right dust rag and make the correct push.
What I actually make are paintings, with the colour, structure, expressive strength and brilliance of textile.
I strive for renewal by use of other material a.o. photographs/paper/paperboard/tyvek in my textile paintings.
What I also make are textile collections, which I process in art books and boxes.
Furthermore I make acrylic resin paintings with a lot of structure.
I have regular group and solo exhibitions in the Netherlands.
I hope you enjoy watching my website.

Willy Schut
email:willyschut@hotmail.com
© All artworks on this site are copyright protected.