Mixed media/Textile artist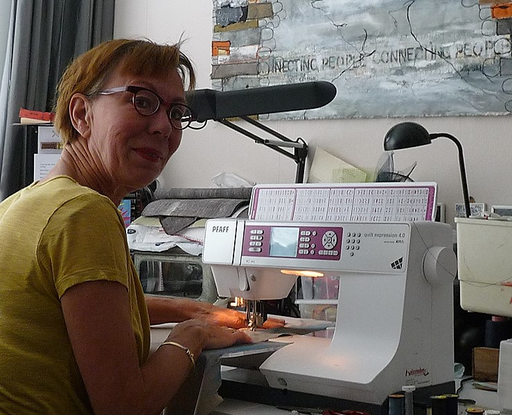 Willy is a mixed media/textile artist.
Click, click, clap, trrrrrrrrrrrrrrrr, a magical sound. That was when my mom was sitting at the sewing machine and bobbing a thread spool. A memory for life.
My mother was a dressmaker. My love for textiles was born through her.
I translate my thoughts into textile paintings and objects. Just as a draftsman draws with a pencil, I "draw" with the sewing machine. It is actually a combination of painting, applying an free machine embroidery. Materials attached on and to each other make the skin for an new work. Compositions created with subtle shades.
Free and intuitive I embroider on this, by hand and sewing machine.
I use fabric, yarn, paint and everything else that makes the image better. This can be old and discarded material, beautiful pieces of wood, plaster, newspaper, plastic etc.
The common thread in my work is the theme "Connections".
Connections in the broadest sense of the word. Industrial and human. Open, broken, new and closed connections.
Under the group – Textile paintings- are works that have arisen from a sudden inspiration.
These works are mainly worked on with textiles.
Sometimes I work on special projects because I get material that surprises me, such as my handkerchief project, of which I received more than 500 pieces after a call.
My website is a nice collection of happiness and frustration moments.
I wish you a lot of viewing pleasure.
Willy Schut
You can also find my work on Instagram.
email:willyschut@hotmail.com
© All artworks on this site are copyright protected.